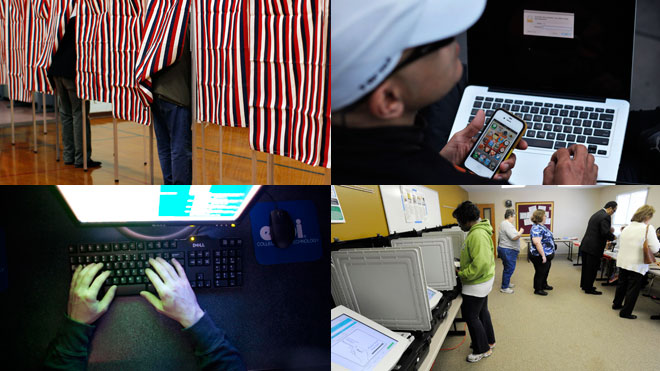 http://www.foxbusiness.com/technology/2012/10/19/voting-for-leader-free-worldfrom-your-couch/
The premise of our class thus far has been the simplistic and efficient nature of technology. Each week we talk about new inventions and ideas brought about to improve our standard of living as a nation. Many of the ideas have proven to be beneficial while also remaining controversial. I came across this article that is fitting for our time frame considering the presidential elections are right around the corner.
Our country is built upon a platform of traditions. As our society has progressed, many of these traditions have been broken and altered. The infringement of social norms has resulted in evolution, without it we would remain at an unreformed standstill. Technology is the key to breaking all of these boundaries and while it was difficult taking the first step of defiance, it has led us to a world of possibilities we never could have imagined. But what about the breaking of one of our longest-standing and most prideful traditions…the power of democracy and the voting process.
Jennifer Booton's article, Voting for the Leader of the Free World….From Your Couch, discusses the idea of voting in the presidential elections simply by the touch of a button, whether it be from your smartphone or laptop. In a world where people manage bank accounts, do their taxes, invest in stocks, etc. from a computer, why not present the option of voting through a similar approach. We already rely on our forms of technology for every personal necessity, perhaps the cherished opportunity to have a say in the ruling of a country should be thrown into the mix as well.
The ability to vote from a smartphone or computer is a major upgrade in convenience. With this power, perhaps more people will be willing to take part in the election due to the ease of accessibility. Even the elderly or disabled can be a part of history without all of the hassle of making it out to the polls.
However the concerns of interference and fraud certainly make themselves known. Scientists and politicians are concerned that with a major development such as this, other nations will react maliciously and try to corrupt the security of the elections. Hacking is a very real prospect that coincides with an idea such as this.
The ability to  have a say in our country's ruling is not something to be taken lightly. We pride ourselves on the freedoms that are granted to U.S. citizens, and voting, via smartphones and computers, can either help or harm those freedoms. We live in a society where technology is dominant and simplicity and efficiency are encouraged, but how far are we willing to go before we violate the very morals upon which our nation was founded? Should the power of voting be available through our iphones and laptops? Or should we continue to hold sacred our democratic processes?