Lately, I've been dabbling with becoming a "quantified self." That is, I'm trying to keep closer tabs on the time and resources I use to do the things I do. I've started to use a program called RescueTime to log my time spent on writing, websurfing, and emailing. So far, the results are mixed. I feel guiltier when I'm on Facebook, but I haven't figured out how to make the data RescueTime collects particularly useful. For instance, I'd like it to communicate with my schedule to see when I'm teaching and in meetings, and be able to break down blocks of teaching, research and service (all of which involve emailing and word-processing, which RescueTime keeps track of). I'm working on it.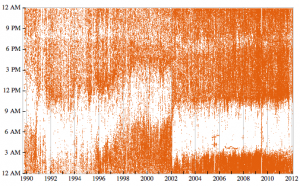 I'm presenting at CCCC on a related topic–the time and resources it takes to do digital pedagogy–in a session with Madeleine Sorapure and Joanna Wolfe. And Stephen Wolfram's recent post on his quantified self, cataloguing email volume, paper scraps, and time since 1989, is an inspiration if an intimidating and somewhat scary one.
My forays in quantification, plus some recent academic service work and my upcoming 3rd year review, has got me thinking: what if academics had quantified vitas? The vita is already a document of quantity–a list of publications, educations, organizations, conferences, and classes, arranged by categories and dates. Quality and time values are implicit: when reading a CV, we can gauge that a book likely took longer to write than a conference presentation, and that this publication was in a more influential journal than that one.
But can you tell from my courselist that I spend a great deal of time and attention on my feedback to students? Perhaps student evaluations offer an oblique measure of this, but we all know how those are affected by levels of courses, types of students, and curricular necessities. And student evals are generally left off of the CV anyway.
Even more difficult to assess is service. Two people can be on one committee and devote wildly different amounts of time to it. Time ≠ productivity or effectiveness, of course. But doesn't it mean something? On my own CV, I could point to the in-name-only committees– those that only met once or didn't do much. I could also point to the committees that met often and for which I (think I) did sustained and effective work. For my "honors," I could indicate the awards that weren't particularly competitive, and those that were. But I lived my own vita, and I don't have that level of access to others.
I know there are significant limits to a quantified vita. I'm leary of the quantification-uber-alles value that's implicit here. We can't count everything. For instance, in the sciences, a journal's impact factor is an attempt to measure influence, but this practice is viewed askance in the humanities because of issues of interdisciplinarity, circulation, and a general skepticism about numbers as a form of representation. And although I can catalogue the time and resources I spend teaching my students, it's impossible to count the ways I love them. The best parts of my life are unquantified, and I'd like to keep them that way.
But what value might there be to counting certain things in certain ways? Certainly, the Digital Humanities is working on answering that question. Distant reading doesn't replace close reading, but still tells us some interesting things about texts (e.g., Witmore and Hope's work on Shakespeare's corpus, or Google's Ngram viewer). And statistics on salary and promotion disparities between faculty of different races and sexes can give us tools to fix real problems. The often mentioned challenges of women faculty in service work and work-life balance is, in part, an issue of quantity: how much time is spent by whom?
CVs are already standardized information delivery systems, albeit imperfect ones. To repeat a mantra of computer programmers, might the best remedy for low information be more information?