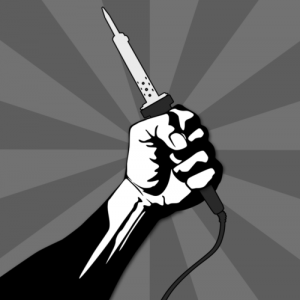 This past Friday, the hacker of our class to our talent to South Pittsburgh. Particularly, we went to HackPittsburgh; an organization that primes themselves on making devices, gadgets, and gizmos out of found objects.
Initially, I did not know anything about HackPittsburgh. I also had a bad feeling about this field trip. I had the idea that it would be close to a boring high school-like field trip where the funnest part would be the fact that we were not in school.
I was utterly wrong.
We arrived to a place in an ally; a garage to be exact. And it was sort of sketchy, with three people standing inside greeting us. We split into groups and I ended up sitting at a soldering table with a plethora of gadget-techy equipment. I didn't know what I was doing there and I certainly didn't know what I was in for.
However, it was somewhat exhilarating. I was being guided through the process, exploring an unfamiliar process, mending together different pieces to create a unified whole. Sort of like composing, I was sitting there with an array of pieces, a teacher to guide me, and the solderer in my hand writing my fate away. I realized that sometimes, going in without an idea may be your only hope to succeed. It is through the lessons that you experience that truly develops your skills in that particular interest.
Next, we went on a tour. And a tour we got.
First, other than Doctorow's Makers, I had not even heard of a 3D printer that could physically manufacture a command from a computer and replicate it to perfection. However, that machine still leaves me speechless. So, to discuss the rest of the garage, there was a plethora of equipment: old radar machines, desktop computer, wires, bolts, wood branches, and a cardinal. All this junk, per se, was absolutely the opposite of junk to these hackers. They valued it as gold, they knew each and every piece in their garage had a given purpose, and that it was not even close to being just another object that took up space in their tiny venue.
They were able to revisit old devices, like old pieces of writing, taking out the most crucial pieces of it and combining it with new and developing ideas to create something out of the ordinary. It was flattering to see how everything was put to use so effectively.
Last, we made buttons.
It was an assembly line: from the cookie cutter machine that helped us extract memorable pieces out of magazines, to the dome and plastic covers that were precisely  laid upon each other to make a perfect button pin. I had too much fun with it. It was sort of like taking each piece of evidence, each piece of an argument, and putting it on top of each other, forming a solid and unified piece that exemplified every process that took place.
All in all, it was a successful trip to HackPittsburgh. The button pins and thermometers, the 3D printer and mustache ring, and the much needed pizza collaborated into an exceptional learning experience.
Not only did I learn about hackers and makers, but, I also learned about the effectiveness and thought process behind a solid writing structure. Whether it is developing an argument, or experimenting with new styles, everything needs practice.
And practice makes perfect.
Cliché? A little. However, it's true. Writing can be related to anything because it boils down to a simple procedure: compose, revise, produce, revise, and perfect. We compose what we want, we revise it, we produce the result of our current work, we revise it once more to ensure completion and coherency, and then perfect it to the final product.
This method is hundred proof and guaranteed for positive results. The makers of HackPittsburgh have followed this procedure and have been fortunate enough to make strives in the technological world. Similarly, this process will provide success for FP 0003's makers, hackers, and composers.