Over the past two weeks, I have been able to learn more about TED; a website with "riveting talks by remarkable people" that are completely free to the world.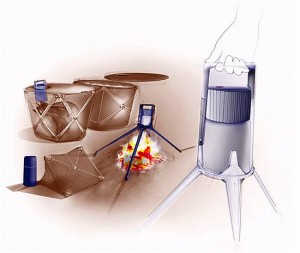 I happened to uncover something truly remarkable this past few days while I was skimming through these videos: a refrigeration system the size of a water flask that could potentially decrease the spread of disease and starvation in underdeveloped nations.
Adam Grosser and his team at Stanford University was able to develop a prototype of a refrigeration system that does not use any natural gas, coal, or electricity. By utilizing a heat source (i.e. cooking fire fueled by camel dung or wood), the device will do the rest of the work.
This is how it will help recent the spread of disease and malnutrition:
It can refrigerate vaccines for doctors and hospitals in zones that have little to no power.
It can store away foods that necessitate the use of a cool place to prevent spoiling.
Personally, this is a wonderful invention. Grosser was able to utilize the ideals of scientists decades ago to successfully create a product that encompasses the materials these scientists incorrectly used. Grosser, another visionary maker, has discovered an effective way to better the refrigeration technology that we use today, and quite frankly, has done it with portability in mind.
Doctors, hospitals, emergency response crews, campers, and a wide range of people are applicable to use this product because it is very user-friendly and provides a needed service to the public.
You can watch more of the video here: