I came home for thanksgiving Friday morning, and this extended break is extremely necessary. I'm sure all of you are feeling the same way, even if you're still cramming in your dorm room right now. It's so weird driving around in my small town known for Utz potato chips and Snyder's pretzels (no relation, unfortunately). This town is tiny, and it's hard to even decide where I want to go out to eat dinner. It's also really odd driving again. I haven't touched my car keys since August 22, and now I'm driving every day once again. On my schedule. Without a creepy bus driver.
I love Pittsburgh, and I love city life, but it is so refreshing to be in a familiar, safe area. I showered without shoes on, and I slept in my same bed. Not to mention cooking food myself–man, it makes Market Central seem terrible! There is nothing like home cooked food, as everyone will experience in just a few days. 
One of the biggest things I've realized about being on my own in the city is how important college really is, as well as how we are each living in a special privilege every day. I went to Olive Garden with one of my good friends for lunch, and we recognized one girl that graduated with us. She is staying in Hanover, working a nearly minimum wage job, with no ambition for the future. Some people live like this and live completely self-satisfying jobs. But the amount I've learned already in college is amazing. I feel more educated, and it's only been three months. It's such an honor to me to be able to work for my future, as cliche as this sounds. I'm just not the kind of person that would be satisfied remaining in my home town for the rest of my life (not that there is anything wrong with this).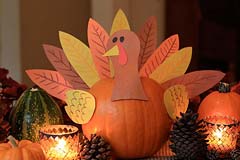 Anyway, everyone take these couple days to relax and eat lots of yummy food! I'll be preparing a Tofurky–proving my varied making ability to my family. I've already cooked dinner and dessert, and I went to a GIANT craft store called Hobby Lobby–drooling over the making possibilities. I can't wait to see what everyone makes for their project! Happy Thanksgiving!